On the 1st of January 2018, non-EU foreigners holding a residence permit in Italy were 3,714,934. Citizens from Morocco (443,147), Albania (430,340), China (309,110), Ukraine (235,245) and Philippines (161,609) accounted for a significant share.
In 2017, new inflows of non-EU foreigners were 262,770 (+16% new permits over the previous year). Permits issued for family purposes were 43.2%, while new permits issued for work only accounted for 4.6%.
Inflows for asylum and other humanitarian reasons (101 thousand people) grew by nearly 30%. The large majority of new permits issued in 2017, involved people from Nigeria, Albania, Morocco, Pakistan and Bangladesh.
In 2017, after more than ten years of growth, acquisitions of Italian citizenship (135,814) decreased by 26.4%. Almost 37% of acquisitions of citizenship concerned Albanians (27.112) and Moroccans (22.645).
People that acquired the Italian citizenship between 2013 and 2017 were likely to remain in Italy. In fact, 87.8% of the "new Italians" were still resident in our country on the 1st of January 2018.
With regards to households, families with at least one non-EU-citizens were 1.3 million, while 321 thousand families were composed by at least one Italian citizen and one non-EU person.
Unipersonal households accounted for 33.8% of families with non-EU-citizens, families with two persons accounted for 15.9%, families with three persons for 16.3%, families with four components for 17.5% and families with more than four persons for 16.5%.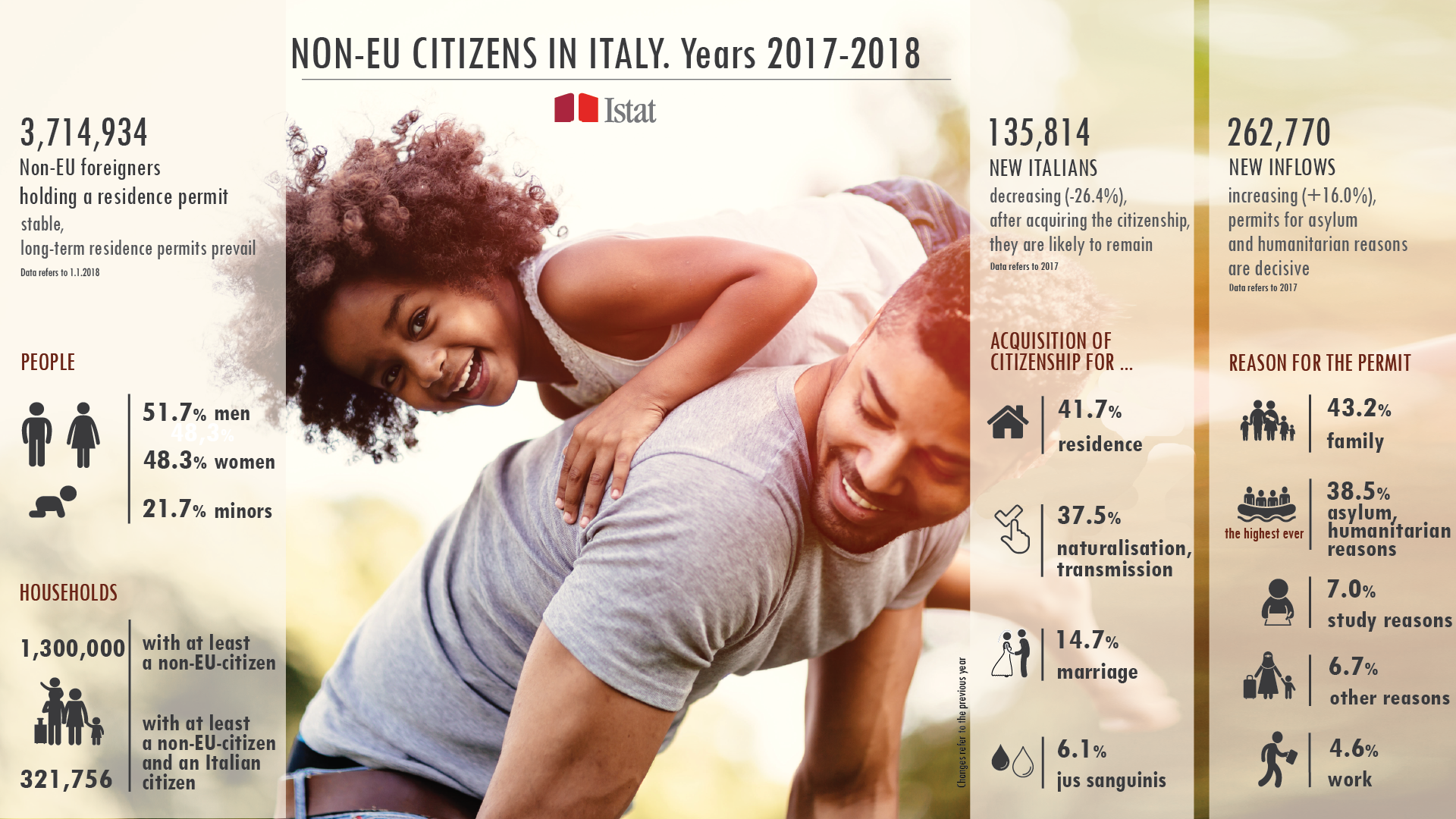 Click the image to download pdf
For information
Cinzia Conti
Ph. +39 06 4673.7366
ciconti@istat.it
Fabio Massimo Rottino
Ph. +39 06 4673.7589
rottino@istat.it
Themes: Tags: Typology: id:224319