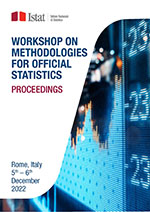 Workshop on Methodologies for Official Statistics – Proceedings
(full text – pdf 4 MB)
Edition: 2023
Series: Other publications – Proceedings
Page: 194
ISBN 978-88-458-2102-8
This Ebook collects the Proceedings of the first Workshop on Methodologies for Official Statistics, hosted by Istat in Roma on the 5th and 6th December 2022.
This event has the ambition of constituting an annual appointment to share experiences and results in statistical methodologies applied to official statistics.
This first Workshop was divided into four Sessions representing the priority areas of research pursued by Istat on statistical methods for new censuses, multi-source processes, and big data; the fourth Session is dedicated to the standardisation of methods and processes.
The proceedings of the Workshop illustrate the papers presented in the four Sessions, introduced by the Chairpersons of each Session.
All event materials and recordings of the Workshop are available on the Istat website
Tags: Typology: id:290538