The orientation of city governments to sustainable management and to implement "smart city" policies is described by grouping the response indicators related to eight environmental topics (Water, Air, Eco-management, Energy, Urban mobility, Waste, Noise, Urban green) in six dimensions of analysis: two representing sustainability, two the "smart city" policies, and two relevant to both themes.
DIMENSIONS OF ANALYSIS FOR RESPONSE INDICATORS RELATED TO URBAN ENVIRONMENT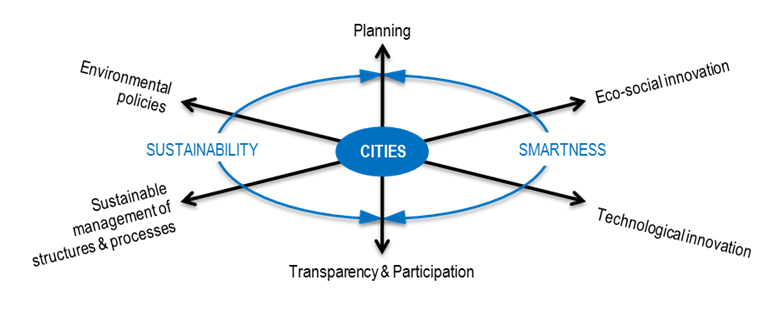 In the field of urban planning, one out of four provincial capitals did not have the Acoustic Zoning (a compulsory mapping of noise emission limits), and 102 were lacking the Urban Traffic Plan (compulsory for 111); while 23 (out of 45 over 100,000 inhabitants) had a Urban Mobility Plan and 11 a Plan for Green Areas.
In 2015, nearly all provincial capitals (114) performed curbside collection and withdrawal of bulky on call (113); 106 provided "Isole ecologiche" (waste separation stations) for the direct disposal of some categories of waste by citizens, 44 provided the same service by mobile waste separation stations, and 99 performed special collections of abandoned waste.
Severe inefficiencies persisted in drinking water supply: in 2015, water losses in municipal networks exceeded 20% in four provincial capitals out of five, and 13 cities had to apply rationing measures.
24 cities promoted the Greening of new built areas, and 22 the Conservation of trees in private areas adjacent to existing buildings.
In provincial capitals there were, on average, 34 free WiFi spots every 100,000 inhabitants, and 62 cities made available public utility Apps.
Bike sharing services are available in 60 cities, and Car sharing services in 26 – in 20 of which only in station-based mode, in 2 only in free flow mode, and in 4 (Torino, Milano, Firenze and Roma) in both modes.
To help users and foster transparency of administrative procedures, the municipalities of provincial capitals provide access to 25 online services on average: in 34 cities the entire procedure (including possible payments) could be completed online for at least 8 in a range of 40 municipal services.
In 2015, 26 cities resorted to Green Public Procurement, by applying at least one of the Minimal environmental criteria (CAM) defined by the Ministry of environment, in the purchase of goods and services.
Themes: Tags: Typology: id:193112